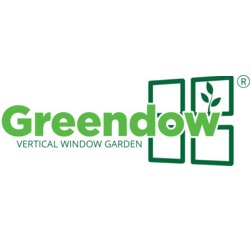 Greendow Vertical Window Garden Standard [4 Troughs]
Recommended Extras
Bloom Roots [300ml] - ($33.00)
Eazy Plug Coco Peat Propagation Tray [12 Cubes] - ($11.90)
Jiffy Propagation Peat Pellets [36mm x 12 Pellets] - ($5.95)
---
---
Greendow Vertical Window Gardens - Transform your Window
Greendow Vertical Window Gardens are installed directly into your existing window! They are custom built with your choice of colour, lighting and window location, and can be maintained for you with a monthly fee, or even by yourself with complete colour instructions and support included.
Greendow Window Gardens come in 3 general sizes that are varied depending on the installation window. The sizes and prices vary this way:
Small: Up to 2 Troughs (growing channels), and up to 0.9 metres wide by 1.2m high
Standard: Up to 4 Troughs (growing channels), and up to 1.1 metres wide by 2.1m high
Large: Up to 4 Troughs (growing channels), and up to 1.5 metres wide by 2.2m high
Greendow Vertical Window Garden Features:
Lets you effortlessly grow plants, flowers, herbs and produce in any interior space
Is perfect for commercial, business and residential environments
Fits neatly against existing windows, with easily installation from inside the building
Uses square footage in an innovative way, providing green environments without infringing on valuable floor space
Solar Assisted growth - panels facing towards the sun collect light during the day and offset the power usage.
Control up to 6 LED colours on the growing levels - Wifi Capability from Mobile Phone app available soon (during 2021)
Uses a patented design with:

An aluminium frame designed to be stable, lightweight and easy to assemble
Original siphoning mechanisms to complement the flood and drain (ebb and flow) hydroponics system
Flexibility to fit any existing window space
How to Brighten Your View with a Greendow System!
With the purchase of your choice of Greendow size, delivery and installation is included throughout SE Qld (from Coolangatta (4225) to Noosa (4567) out to Toowoomba (4350). Delivery and installation can be organised within 7-14 days of your purchase due to the fabrication time required for the unit.
Furthermore, included within the price:
Start Up Pack - fertiliser and everything you need to get growing included worth $100.
Plants are included - the first set of start-up plants are included within installation. Thereafter, plants can be purchased with delivery and planting as part of the weekly service or maintenance cycle.
Servicing included - a free weekly service for the first 4 weeks. Thereafter, maintenance can be carried out by clients with use of user manual, or they can choose to have a service agreement with our partner. The monthly service price is $49.00 per month for up to 2 visits per month – excluding plants.
How does a Greendow Vertical Window Garden System work?
Greendows have proprietary design for water and nutrients to flow past the plants roots at exactly the right combination. This principle makes it easy to grow lush plants quickly, and with minimal effort. Strong, lush green and colourful plants result from the continuous nutrients and water to the root zone from this method of growing which has been used commercially for over 30 years. Electricity is required for the lighting and pump systems, and you can tend to the plants yourself or get expert help to keep the system looking amazing all year round.
Shipping Calculator
Enter the quantity of product and your suburb name to calculate shipping costs.

This calculator will show you the delivery charges for this product only.


Free Shipping Eligibility
---
Aqua Gardening offers free shipping on most orders above $249 that are not bulky items. Once you place all the items you wish to buy in the cart, the combined shipping price will be shown in the cart, including Free Shipping if you are eligible. For full details please see our free shipping eligibility here.
---

Delivery Information
---
Back Order products

These are products we usually carry in stock but are temporary out of stock. These products will be back in stock within a few days. We can send you an email notification when they are back in stock if you click on the "Notify me when back in stock" link. See the full details here.
---
Special Order products

These are products that we do not regularly stock. These products will be ordered specially for you, or dispatched directly to you from our supplier. See the full details here.
---
Online Only products

These are products that are in stock in a different warehouse and can't be picked up with the Click & Collect option. If you wish to collect these products from our Brisbane showroom, you can enter our address as the delivery address. Shipping costs may apply. See the full details here.
---
Click & Collect Only products

These products can only be collected from our Brisbane showroom as we can not ship them. If you place any of these products in your cart, you will only see the Click & Collect option at the checkout.
---
Fast Dispatch products

These are products that we have in stock in our Brisbane showroom, and they are available for immediate Click & Collect or Shipping. Keep in mind that if you have a product which is not listed as a Fast Dispatch product in your cart, there might be a delay on your order. See the full details here.
---
---
Warranty
---
2 Years (Repair Warranty - Manufacturer warranty, this product needs to be returned to Aqua Gardening and then sent to the supplier for testing and repair. )
---
Returns
---
60 Day Returns
- We will provide a refund, exchange or store credit where you have decided you no longer want the product and it is in new, unopened condition.
More details.