Chikamasa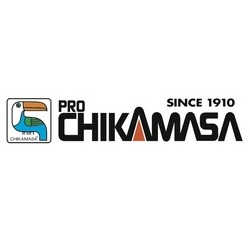 Scissors have existed since BC. We have been involved in the development and production of the scissors for more than 110 years.
Our main products are Gardening Scissors which are used to care and harvest fruit trees, vegetables, and flowers. In order to provide scissors that please our customers, we will pay close attention to the quality of sharpness and ease of use.
Quality is created by the richness of hearts coming from "gratitude". Gathering of employees with richness of hearts creates our quality products.
In 1910, my grandfather, Shojiro Wada, started manufacturing flower scissors in Zaimoku-cho, Sakai City. At first, it was handmade one by one. Eventually, mechanical production began, and now more than 50 industrial robots are working.
Why is it unmanned?
Because we are very particular about "MADE IN JAPAN". The scissors we make put quality first and foremost. For that purpose, the general work is done by robots, and the quality control that requires the five senses is done by ours. By this "role division of robots and humans", 90% of the products can be produced in-house, and we are able to deliver "quality peace of mind" to customers.
I'm sure that the scissors used from adults to children will never disappear from the world. Rather, I believe it will be more diverse and more creative according to customer's needs.
That is why "Original Technology" should be refined.
We would like to create technologies that only we can do, not only in manufacturing, but also in human development and business management. I believe that it can create a rich future.
We will open up the next 100 years, thanking our customers who have supported our 110-year history, those who have been involved with us, and each and every employee.