Ghantrade Laboratories | CO2 Enricha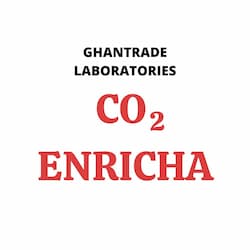 CO2 Enricha Feeds your plants!

Carbon dioxide (CO2) enrichment is well known as a proven method of significantly increasing the growth rate of any green plant. Now you can make your own pure CO2 has for enrichment with CO2 Enricha.
How to Use CO2 Enricha
Just add CO2 Enricha crystals to ordinary water to instantly release CO2 gas, its that simple! Use CO2 Enricha to produce 1300mls of CO2 gas per 30ml dose. Use one dose per cubic metre (1m x 1m x 1m = half of a 1x1x2m Grow Tent) of growing space.
CO2 Enricha boosts your CO2 levels by over 400% to reach and maintain optimum CO2 levels (1600ppm) for accelerated plant growth rates - as high as 30% above normal. Achieve maximum results during cloning, vegetative growth and flowering, including increased flower weight, plant height, root growth, number of buds and earlier flowering and fruiting.