Gorilla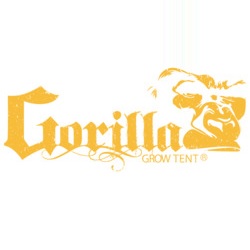 There is a reason why Gorilla Grow Tents are the best selling grow tents in the world. In the short time since the company's conception in 2011, it has arguably produced the best grow tents available on the market. Their aim was to create the thickest, strongest and most durable grow tent available, while not compromising on size or safety. The Gorilla tents are also designed to reduce sound, be odour proof and with great insulation to make it easier to maintain optimal growing temperatures.
Our range of Gorilla Grow Tents come in 10 different sizes, ranging from 2X2ft all the way up to the massive 10X20ft tent for the serious indoor gardeners.
Gorilla Grow Tents are the Tallest, Thickest, and Strongest grow tents ever created. Gorilla's original grow tent design has revolutionized the growing industry. Grow Strong with best controlled indoor hydroponic or soil growing environment tents for sale.
TALLEST
GORILLA GROW TENTS feature a patent pending adjustable height extension kit that gives you the ability to increase your growing space height from 7' to 8' or 9' tall.
Your plants can grow up to 50% larger. Never again will you have to worry about your plants outgrowing your growing lights and indoor grow room. Now you can experience crouch free maneuvering without banging your head on low hanging lights.
OTHER INDOOR GROW TENTS are limited by a standard 6' height. Plants often outgrow their space, yields are smaller as a result, and your back and head pay the price as you hunch over in your grow room banging your head against hoods.
LITE LINE Indoor Grow Tent line carries the Gorilla torch with its height adjusting technology. While these tents have a lower starting height, growers still have the ability to increase their overall growing height on the fly with the 1 ft. height extension kit (sold separately).
Low ceiling height of your growing environment got you down? Well, let the LITE LINE bring you right back up. GGT & LITE LINE are your ONLY height extending tent options worldwide for your grow room set up.
Sometimes TALLEST isn't always best. The GGT SHORTY offers all the same amazing durability and features of the Original Gorilla Grow Tent but in a size that fits in those tough spaces like basements, attics, and small rooms.
Regardless of your grow room location, rest assured Gorilla has a tent for you!
THICKEST
GORILLA GROW TENTS and GGT SHORTY TENTS are made with 1680D threaded, reflective fabric, which is up to 3 - 9x denser than any other grow tent set up.
This means that they are more light proof, more durable, quieter, stronger, safer, and create the best possible growing environment for you and your plants.
The unique "diamond" reflective walls provide greater grow light reflection and lightredistribution, minimizing hot spots and maximizing your grow room set up.
LITE LINE utilizes a cutting edge PEVA binding technique to merge the exterior canvas and diamond reflective interior. This allows LITE LINE to offer superior rigidity over competing grow tents.
As a result, LITE LINE is not plagued with the same pitfalls as those tents with comparable, or even greater, thickness.
OTHER GROW TENTS range from only 190D - 600D in thinness and do not utilize LITE LINE's proprietary binding method. This means that they will rip easily, leak light more readily, and offer problematic indoor growing environments. Their inadequate thread density presents an unnecessary risk of dangerous hazards such as flooding, and their old fashioned swirl reflection design creates hot spots and does not effectively utilize rogue light.
STRONGEST
GORILLA GROW TENT and GGT SHORTY TENT frames are up to 2 - 5x stronger than any other grow tent in the world. The poles are 100% metal and each has fasteners that securely lock your structure in place. These tents are so sturdy that the Big Bad Wolf will not be able to blow your grows down. We have utilized thick viewing windows, tightly reinforced seals, strong zippers and fabric providing unparalleled durability and security for your soil or hydroponic grow tent.
LITE LINE utilizes an all steel, interlocking, secure, frame. Gorilla Tent LITE LINE includes viewing windows, tightly reinforced seals, strong zippers, and durable fabric.
OTHER GROW TENTS use fragile plastic, aluminum, or at best, extremely thin steel poles. Plastic corners and connectors frequently crack or break putting your grows at great risk. Other tent perils include faulty zippers, loose ducting seals, and the uber irritating tearing seams.