Hansen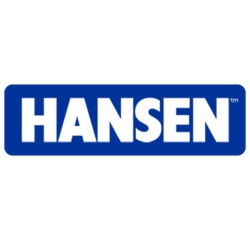 Hansen's Pipe Fittings and Valves have been working for New Zealanders for over 50 years and are winning a world market. It all started in the 1950's, Bert Hansen was building a house and couldn't find a reliable toilet valve, being an engineer he invented one and from there it all started.
Hansen Products is now proud to introduce a range of HiFlo Valves to its already established product range. The HiFlo Valves are Strong, Lightweight and Compact and have been designed and manufactured to deliver high volumes of water quickly with smooth unrestricted full flow control.
Adding to the Hansen HiFlo family of valves comes the much anticipated release of the Hansen Mini Fast˙Flo valve. Ideally suited to tight fitting environments that demand a very compact sized valve with responsive on/off capabilities, the Mini Fast˙Flo valve brings with it the perfect solution for ultra tight spaces. Built to the same quality and precision specifications as the Hansen range of valves that precede it, the barbed outlet allows for a hose attachment to both diffuse and help eliminate noise from the outlet flow. A tough, reversible urethane seat effectively doubles the life of the valve providing a 'best of class' valve that's reliable for the long term.
With over 50 years experience in manufacturing, Hansen Products knows the importance of fluid delivery, flow and pressure within a pipe system. This has seen Hansen Products build a reputation for providing high performance, easy to use, innovative simple products that provide our customers with "Best Installed Value".
Mini compact design suited to confined spaces ie small feeder bowls, troughs & header tanks
Designed with a patent pending "Ezi Clamp" arm to make water level adjustment a breeze
Reliable in High/Low pressures - 0 to 12 Bar
Durable urethane seat, which is reversible
Cost effective trough/tank valve - 29 PSI - 9 l/min
Ability to attach a diffuser hose to reduce water turbulence & noise in top entry installations & Anti-Syphon Holes to prevent back flow.
Will fit multiple thread & connection combinations 15 - 50mm
Suitable for top entry
Manufactured from strong non corrosive UV stabilised materials