Canna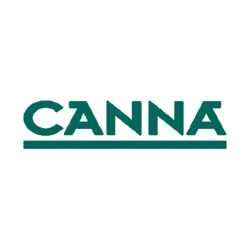 CANNA is the producer of nutrients and growing mediums for the cultivation of fast growing plants. Ever since the founding in the early 90s, all products are scientifically tested first, before put on the market. But even before the company was established, the founders were already scientifically pioneering with plants.
CANNA holds the complete production chain in its own hands. From development to research, via marketing and sales to the unique environmentally friendly production line. CANNA also has its own logistics department and of course a laboratory. Here passionate scientists unravel the secrets of nature. The passion for plants is shown in CANNA's quality products. Years of intensive research precede the market launch of each product.
Quality Proves Itself
CANNA was awarded first prize for its revolutionary plant products at a prestigious annual expo in Holland for hydroponic and potting mix growers.
We are the Dutch experts and internationally recognised world wide leader in intelligent plant technologies for cultivating your favourite plants in cocoponics, hydroponics and potting mix.
It's a combination of common sense and uncommon dedication. Since 1979, our founder has searched the planet for active plants and minerals for plant health and well-being. Years of experience, indigenous inspiration and the latest high-tech plant research have culminated in effective formulas that enable and guarantee anyone, including inexperienced growers, to achieve amazing results! The use of our cutting-edge, nutritional plant products are clean, simple, easy to use and do not harm the environment.
Each CANNA product has been lovingly created to offer you the greatest yields possible when using a specific growing medium or method. The secret behind CANNA's intelligent products is found in a carefully balanced and integrated blend of the finest main and trace elements for each growing medium and fertiliser combination.
Today, CANNA is available throughout Europe, Australia, North America, the Middle East and Africa. We have been voted by growers around the globe as the world's No.1 brand in plant technologies. Quality proves itself!
'Be modest'
Is a phrase that just seems to be made for CANNA. Although whipped up marketing hypes seem to be the norm at present, patting ourselves on the back is not our scene. We prefer to let our products speak for themselves. The fact that professional growers in fourteen countries swear by CANNA and that our products are offered in more than 95% of the grow shops seems to us as an adequate proof that our philosophy bears fruit.
Professionalism
Team spirit and love for the plant are just a few keywords that characterize CANNA's business philosophy. It must be obvious that CANNA is much more than just a producer of fertilisers. Unique in grow-land is that we keep the whole production process in our own hands. From development and research to the unique environmentally friendly production line and our extremely rapid delivery department. As the only producer of nutrients, CANNA has its own laboratory and research areas where specialized scientists daily unravel nature's secrets. We think that only by keeping as many factors as possible in our own hands, will we be in a position to offer a product of a consistently high quality.
Forward with Care
Based on decades of experience with growing and intense collaboration with other pioneers, CANNA has assembled an enormous reservoir of knowledge that cannot be matched in grow land or even beyond. This rare combination of professional knowledge and enthusiasm has, in the course of seven years, led to a series of very high quality products. No single CANNA product is simply placed on the market. Only when we are 100% certain that a product will have an optimum performance do we bring it onto the market.
But for us that is still not enough. To be sure that there will be no unpleasant surprises, we also need to be certain why something works. In addition, we first undertake an extended investigation with people in various countries who are in the growing business, in order to list all the possible conditions. Therefore, we shall never launch a product into the market too hasty.
However tempting that may sometimes be in a market where the issues of the day all too often lead to short term hypes.
Made for Professionals
We believe that the serious expert knows how to estimate the value of our professional approach. We are of the opinion that he who takes the grower seriously, treats the development of a new product with equal seriousness. And that is not a process that you can complete within a few weeks.
For CANNA, research is also of essential importance. After all, this has extensive consequences for the end user. Therefore we take as long as is necessary for the development of a new product, actually two years on average. A period in which a team of highly trained specialists tirelessly sifts all aspects of a new product. That we place so much emphasis on this means that we can stand four-square behind our products. And that does not end when a product has once passed over the counter.
After-sales service is for us an indispensable part of the business. We keep in close contact with the end users via our dealer network and take their problems extremely seriously.
Feedback from the field is not only a welcome addition to our research. The greatest satisfaction derived from our work is still always a client who is satisfied with his end result.
Pioneers
CANNA's founding fathers where dissatisfied with the existing and very limited range of fertilisers back in the days. So they developed a nutrient that rapidly became a success and of which a shop proprietor noticed that the quality of crops grown on mineral wool that was offered to him was dramatically improved in this way. So well were the results received, that CANNA's first-born twins, CANNA Vega and CANNA Flores (Now trading as CANNA Hydro Vega/Flores), were quickly in production.
This marked the start of a business that within just a few years was to develop the most innovative and reliable constants for use in grow-land. This innovative approach was to prove itself not only in the production of concrete products. Also in the details it seems that CANNA fulfils a pioneering function. One result is the standard mixture ratio of 1:250 for nutrients that is in general use, which was introduced by CANNA.