Accent Hydroponics | Aqua Gardening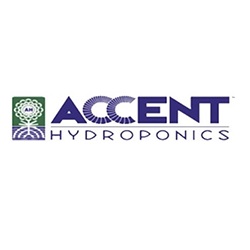 Accent Hydroponics is a fully owned and operated Sydney based Australian company that manufactures and distributes a wide selection of quality grow products to retail hydroponic stores and commercial growers alike.
Accent initially entered the commercial hydroponics industry in 1987 by offering a state-of-the-art NFT hydroponic growing system to pioneer lettuce growers in Australia. The success of the NFT lettuce farms quickly demonstrated that NFT systems were a viable and successful solution for cultivating lucrative cash crops, such as tomatoes, cucumbers, lettuce, herbs, and strawberries.
Public awareness of the superior quality and taste of commercial hydroponics produce led Accent to develop a range of quality hobby products for the home grower. These systems are suitable for growing most types of produce, using the most popular hydroponic growing system worldwide. Accent now distributes a wide variety of products to a large number of retail stores throughout Australia, and worldwide with our Global Partners. We are committed to bringing you the latest technology and products from around the world.
For over 35 years, Accent has been committed to providing you, the grower, with the best tools available for high-performance hydroponic growing.
It doesn't matter if you are a commercial grower with a hectare of lettuce or a mid-city grower who likes closets, Accent helps you do it better. Plus, with awesome product lines like the Accent Solution Precision Nutrient System and complete line of Electronics, Accent's experience shines through!