BOSS Australia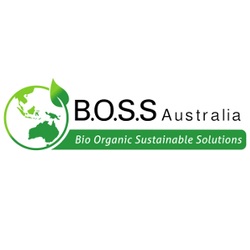 Boss (Aust) Pty Ltd is an Australian owned company that manufactures and distributes Bio Organic Sustainable Solutions for home gardeners, rural producers and commercial applications.
GrowTM is a Bio Organically Sustainable liquid fertilizer, developed as an alternative to chemical fertilizers, seaweed fertilizers and other garden products. We have a vision for a healthier sustainable world free of harmful fertilizers where people have easy affordable access to naturally nutritious food GROW is our step towards a bio-organically sustainable future.
Results Delivered
Delivers outstanding results every time it is applied to fruit and vegetables, lawns and herbs in fact anything. But there's much more to fertiliser than meets the eye.

Organic
Our unique liquid fertiliser has been tried and tested through 10 years of scientific research and development followed by hands-on application coupled with 5th generation farming experience.

Affordable
Makes growing organically affordable and you will SAVE by refilling your GrowTM fertilizer bottles.