Eazy Plug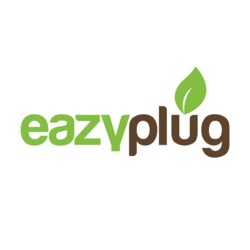 Do you want to improve profitability without sacrificing sustainability?… then Eazy Plug is the right choice for you!
Eazy Plug originates from the Dutch center of cultivation technology, and is an innovating propagating and growing medium that is truly unique. It comes with predetermined EC and pH levels and self regulates to exactly the right air-to-water ratio. Due to its strongly bonded organic components, there is no necessity for pots or sleeves, thus offering huge hair root structures because of to the air pruning effect. With its superb water uptake and uniform moisture distribution, it can be supplied dried, offering a clean lightweight growing medium with an unlimited shelf life.
The Eazy Plug system offers a full cycle, sustainable growing solution containing plugs, blocks and pyramids. Click here for more information about the full cycle system.
Why choose Eazy Plug?
Improved profitability
Enhanced profitability with reductions in cycle time of up to 3 weeks, savings in fertilizing of up to 20%, bigger crops and yields, more efficiency and labor-saving.

Sustainable
The Eazy Plug products are designed to follow the cradle to cradle principle. The products themselves are dried and lightweight thus saving energy during transport. Eazy Plug does not use plastic wrapping and so saves the environment on tons of plastic waste per cultivation.

Compostable
Eazy Plug materials are declared a 100% compostable in normal composting conditions. There is no discernible effect on the composting proces due to the bonding of the components. Combined with its non-toxicity, Eazy Plug materials can simply be put into soil or any other natural environment without leaving a footprint.

Organic Materials
All our substrates are made of organic material of only the very best quality. These organic materials are bonded and stabilized, creating an airy structure with a superb water holding capacity.

100% Success Rate
Just follow the simple instructions to get started and you will always achieve maximum success rate.

Takes Water Back up Amazingly Fast
The water uptake of the material is extremely fast. A dried Eazy Plug takes less than ten seconds to get remoistened. An Eazy Block takes less than 15 seconds and even the large Eazy Pyramid with a volume of 4,5 ltr (1,19 gallon) remoistens within 2 minutes.

Limitless Shelf Life
All our substrates are delivered dried, making them very lightweight and reducing the chance of molds. That makes the shelf life of our products practically unlimited.

Fast and Vigorous Root Development
Our substrates all have a predetermined pH and EC value and a fixed air-to-water ratio. This ensures that propagating and growing conditions are always optimal. Consequently, Eazy Plug provides amazingly fast and powerful germination and rooting.