Emerald Harvest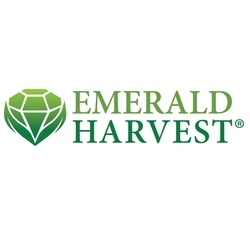 Emerald Harvest's line of premium nutrients and supplements have been developed from the ground up to help growers succeed. A proven feeding program, a compact line of products, and the support of the entire Emerald Harvest team ensures simple, easy success in your garden.
A simple, compact product line - less than a dozen bottles!
Formulated to work together for maximum yields and quality
The highest quality ingredients for clean, potent harvests

LOVE YOUR PLANTS.
Emerald Harvest's premium base nutrients and supplements provide professional results no matter the size of your garden—or your experience level. We offer easy-to-use, high-quality nutrients so you spend less time mixing and managing and more time enjoying your garden and your harvests. Home growers to boutique and craft grows can all achieve the highest quality in fragrance, flavor and potency using Emerald Harvest's balanced nutrient line. Our nutrients and supplements fit together like a perfect puzzle – giving your plants exactly what they need and nothing they don't. Whether you are just starting out or considering a switch – Emerald Harvest is a great choice to ensure simple, easy success in your garden.
Professional Quality
Simple to Use
Knowledgeable Support
Dedicated Community

PROFESSIONAL QUALITY
Our premium base nutrients and supplements are made from the finest ingredients, so they run clean, test clean and simply grow the highest quality crops.
Our nutrients perform as promised - 100% guarantee
Proven increase in size, yield, aroma and flavour
Innovative, naturally occurring ingredients, such as kelp and hemp seed
Quality improvement that you can experience

SIMPLE TO USE
Emerald Harvest is a complete nutrient line in less than a dozen bottles. With the choice of 2 different base nutrients plus 4 plant supplements our product line is compact and simple to use.
Less products to buy – less shelf space required
Proven feeding program in an easy to follow chart
Balanced and stable formulation - no agronomic expertise required
Group image of Emerald Harvest products image

KNOWLEDGEABLE SUPPORT
Emerald Harvest provides access and answers to your issues and questions through our on-line information and resources, as well as a Grower Support contact line.
We educate our retailers on our products to help you with your grow
Our support team has decades of agronomic and nutrient experience
Our on-line resources provide details and insight

DEDICATED COMMUNITY
Once you become part of the Emerald Harvest family you will find a huge collective of passionate growers who are open to sharing stories, stumbles and successes.
Social networks are active and relevant with info and insight
We have a strong brand and a strong following
We keep you engaged through newsletters, social posts, contests and prize giveaways
We listen – we have direct lines for your comments and testimonals