Geopot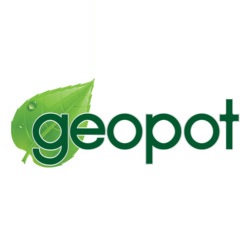 GeoPot fabric pot's signature fabric and novel construction help growers achieve the ideal root environment which promotes water and nutrient uptake for rapid yield and plant development throughout each growth cycle.
The GeoPot Fabric Pot is a breathable fabric container constructed of the thickest nonwoven polypropylene material available that allows air to easily reach your plants' root zones, delivering superior drainage and creating a healthier root environment through air root pruning. Air root pruning encourages roots to branch out with fibrous feeder roots, increasing nutrient uptake efficiency and improving yields. The porous material is reinforced with high-quality, quad-stitched, bonded-polyester thread and is available in black or tan to accommodate your growing environment.
GeoPot's innovative quad-stitched construction and high-quality bonded-polyester thread allow the container to withstand constant moisture and prolonged UV exposure. The square bottoms on GeoPot sizes 1 gallon to 30 gallons ensure stability and efficient use of space, while GeoPot sizes 45 gallons and up have round bottoms for optimal outdoor growing.
GeoPot fabric pots are available with optional sturdy handles to make it easy to quickly and safely relocate plants. GeoPot also offers a fabric transplanter pot with velcro seams to make transplanting easy by allowing the entire side of the container to open for gentle root-ball removal and reduce transplanting shock.
All styles of GeoPot fabric pots are also available in tan to allow for heat reduction of 2-3 degrees in the soil when growing in hotter climates. Tan GeoPots are also a great choice for growers who want their containers to blend in with the natural environment.
Better Plants, Bigger Yields
Our fabric pots provide air root pruning, superior drainage, and improved aeration for healthier, more productive plants.
The GeoPot Fabric Pot was created to satisfy the need for a durable, reliable, and cost-effective gardening container for both amateur and professional cultivators. Gardeners who are new to the idea of growing in fabric pots may not be aware of the many advantages they offer.
Air Root Pruning
The primary advantage of the GeoPot Fabric Pot is air root pruning, in which the roots reach the air on the outside of the pot and are naturally self-pruned, activating the growth of many fibrous feeder roots. These roots are more productive in the uptake of water and nutrients, resulting in a healthier, more robust plant that utilizes the entire root zone for optimum plant growth.
Improved Aeration
The porous fabric of the GeoPot Fabric Pot allows air to enter the root zone from all surfaces of the container, providing more oxygen for the roots and supporting beneficial microorganisms and bacteria. The available oxygen is essential for the metabolic process in taking up minerals and nutrients. Oxygen is also necessary to diffuse carbon dioxide caused by the respiration of root cells and microorganisms.
Superior Drainage
A common problem with conventional plastic containers and wooden raised beds is poor drainage, leading to soil-borne diseases like Phytophthora and Pythium, responsible for devastating root rot. With the GeoPot Fabric Pot and GeoPlanter, excess water can easily drain from the container, keeping moisture at an ideal level for healthy plant growth.