Heat 'n' Grow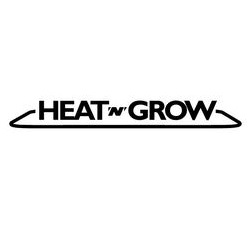 Your best plants start here. When mother nature gives you lemons (or won't give you lemons), take control of your growing environment with Heat 'n' Grow heated propagation systems.
Soil or Hydro - Works equally well for soil or hydroponic gardening.
Durable - Built with sturdy plastics that will last many years.
Low Cost - Running costs from just cents per day.
Australian Owned - Support local growers and Australian business.
Germinate.
Grow your plants bigger, better, stronger, faster & heathier. Soil temperature and environmental conditions can lead to unhealthy plants, or failure to germinate due to thermodormancy at low temperatures.
By controlling the environment and soil temperature you can optimize germination rate and grow healthier plants.
Making use of a propagator you can also extend your growing season. Start your plants earlier, when outside conditions may not allow, and transfer them later, allowing for greater seasonal yields.

Replicate.
Heat 'n' grow systems are equally successful with soil and hydroponic based gardening. This makes them the perfect solution for cloning as well as propagation.
Our propagators incorporate a high tech carbon polymer element which guarantees even heat distribution, ensuring direct heat penetration to the roots of the plant, no matter your choice of growing medium.

Cultivate.
Grow exotics, flowers, herbs and cacti all year round.
Your Heat 'n' Grow system can act as a permanent home for your valuable plants. Simply plug in and switch on at the power point. The heated propagation tray is designed to heat up to 10C above the ambient room temperature.
With simple operation, low running cost, durable plastic construction and complementary accessories available, Heat 'n' Grow is an excellent choice for beginners and professionals alike.