Matala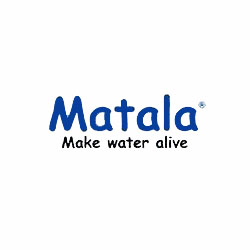 Matala Water Technology Co., Ltd. is the manufacturer, innovator of Matala® filtration media. The open, highly aerobic 3 dimensional structure, progressive filtration surface areas and random pore sized web fiber structure promotes high efficient biological and mechanical filtration and ease of cleaning.
Today, the media has been used in municipal wastewater, industrial wastewater, greywater, storm water, aquaculture, pond, odor control, drainage, infiltration, evaporative cooling wall etc.

Think Progressive!
3 dimensional fiber webs with excellent void space (92%-98%). Available with various specific surface area (120-760m2/m3). Avilable with various fiber diameters (0.3mm-1.95mm).

Water Pumps
Submersible pumps,reliable, heavy duty, high flow rate. Wide range for pond filtration.

Aeration
A simple, effective, reliable and economic way to aerate your aquaculture farms. Durable with low start up, maintenance and replacement cost.

Filters
Our lines of filters are designed to meet a wide range of needs, in pond applications, it functioning as mechanical and biological filtration.