SensorPush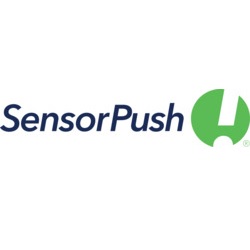 SensorPush Water-Resistant Temperature / Humidity Smart Sensors pair effortlessly with mobile apps and the optional SensorPush G1 WiFi Gateway, to provide a premium solution for monitoring humidity and temperature, dewpoint, and VPD conditions over time.
Wireless sensors with alerts for monitoring temperature, humidity and more. Easy to set up, easy to use.
About SensorPush
SensorPush was created by Cousins & Sears Creative Technologists.
Cousins & Sears is an award-winning creative technology design and development studio. The Brooklyn, NY-based team has worked on behalf of an incredibly wide variety of organizations across virtually every industry imaginable.
Their work has supported global brands such as Nike and FedEx. Their data visualization work has been published in mainstream media outlets like The New York Times Magazine and Popular Mechanics. They have been featured at events from TED to the Sundance Film Festival.
The two partners, Jonathan Cousins and James Nick Sears, are as hands-on as it gets. They bring a range of expertise and knowledge not only from graphic design to software development and electrical engineering, but also in diverse subjects such as history and music.
Origins of SensorPush
SensorPush is a classic example of scratching one's own itch. As homeowners and musicians ourselves, we were unsatisfied with the options available for monitoring and collecting temperature and humidity data. So we set out to build a better option.
The sensors had to be compact. They needed to be accurate and have a long battery life. They needed to store historical data for later analysis.
The apps had to be extraordinarily well-designed. They needed to offer insightful ways to view and analyze data, current and past.
And so, everything from the sensor firmware to the apps themselves has been hand-crafted line by line. We believe the extra effort shows in the end result.
The Future
As proud as we are of this initial release, we have big plans for the future as well. Our roadmap for the coming year leverages our tight, efficient team to cover a lot of ground. New forms of connectivity, modes of sensing, and methods of analysis are all on the way.
First and foremost though, this is all about supporting your needs and making your life better and easier. Don't hesitate to reach out with any ideas on how we can be more effective in that mission.