Wall Garden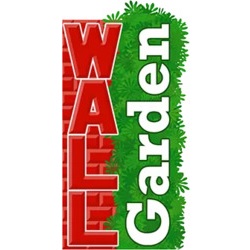 Vertical gardens and real, living green walls by Wallgarden. Proudly made in Australia!
Our DIY friendly vertical garden kit offers quality and lower cost compared to all other vertical garden systems!
Quality; Wallgarden products have more potting mix per plant, needed for root ball growth, but of most importance, better water retention. Capacity of Multi-Hang 4.7 litres/plant, Wallgarden is 16.3 litres, 5.4 litres/plant with 3 plants/pot.
DIY and get the lowest cost per sq.M. Please compare our price/sqM. to see we are half the price of most other systems. Wallgarden, use wood picket fence for uprights, Multi-Hang use 50 x 50 panel mesh, available at Bunnings and most hardware stores.
High UV resistance, to protect your Wallgarden pots from the sun and failure due to ultra violet degradation, ensuring a very long lifetime. Our products are designed and tested to handle the Australian environment.
A 10 year warranty is included with all Wallgarden products. This easily bests the small warranties offered by other vertical garden products on the Australian market.