The Courier Mail
Enoggera's Aqua Gardening provides fresh fruit and vegies for suburb via organic community garden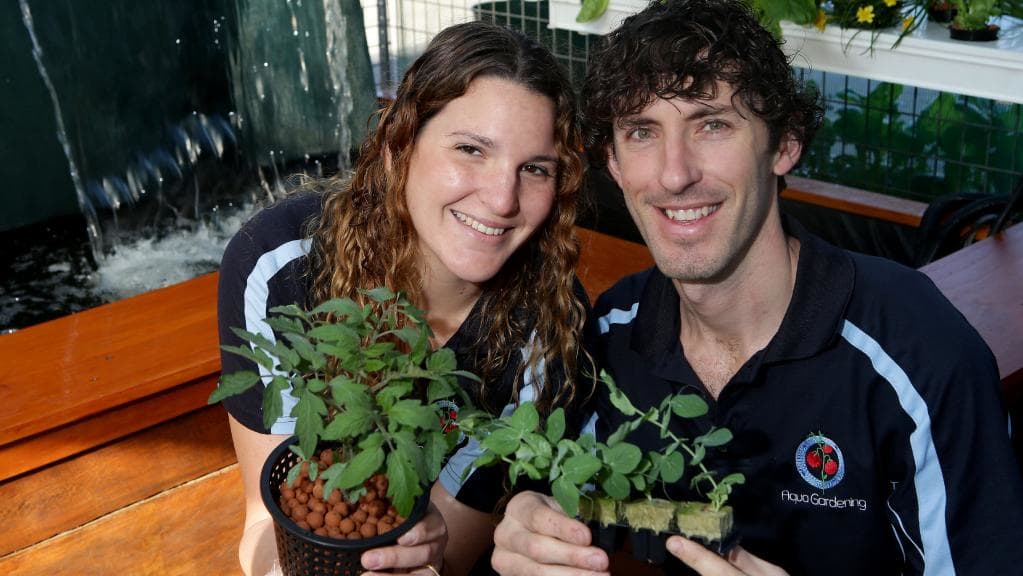 If Chris and Shiran Faast have their way, every backyard and balcony in Brisbane will soon be brimming with fresh produce.
But, if that's a bit of a stretch for the time-poor and brown thumbs among us, the pair has decided to provide some tasty greens by way of a community garden out the front their aquaponics supply business, Aqua Gardening, in Enoggera.
This Sunday, northside residents are invited to help with the planting of tomatoes, lettuces and capsicums, as well as herbs, in specially built tubs connected to a simple aquaponic gardening setup.
Aquaponics is a way of growing plants with no need of an earthen garden bed. Water from a pond filled with the nutrients excreted by its resident fish population is pumped via pipes to nourish plants and vegetables whose roots are submerged.
The system recycles the same water constantly after being filtered and there is often no need for sprays to keep pests away with the plants being grown off the ground.
Ponds are stocked with jade perch, a native Queensland fish that thrives in warmer water, or other fish species, as well as yabbies or red claw.
COMMENT: Can you taste the difference between homegrown and store-bought vegies?
Mr Faast grew up watching his dad tend to a large aquaponic system on their property in the Barossa Valley, South Australia.
A mining engineer by trade, he and his wife really started to become inspired to start an aquaponics business after a trip to the US, where the practice is more widespread.
He said more people were seeking more mineral and nutrient-rich fruit and vegetables than they could access in the traditional supermarket system.
"It makes growing vegetables so easy and you get fish produced out of it if you want too," he said.
"You never forget to water your plants, you just have to feed the fish. (You can grow) basically everything, except for rooting vegetables."
But there are other ways to use the water to grow potatoes, turnips and carrots.
Mrs Faast said "you can't go back" after eating a piece of fruit or a vegetable that has been aquaponically grown.
"We believe that's the way the future should be. If every one of us has a small system at home, you can really grow things easier and reduce the amount of products you get from the supermarkets," she said.
"The different between a real tomato and the ones you get in the supermarket, (a store bought tomato), it's not really a tomato anymore."
Chef at Gaythorne espresso and breakfast bar Hansel and Gretel, Kathryn Maguire, agrees.
The cafe has plans to install an aquaponic garden out the back to increase the amount of fresh herbs available for the kitchen.
"We've already got a little vegie garden, but this is more of a space thing and about keeping stuff off the ground," she said."It tastes better, it's fresher and it's always readily available."
Costing anywhere from $250-500, an aquaponic system will become cost-efficient in 6-24 months depending on what is grown.
To help out with planting or check out the new community garden, head to 3/73 Pickering St, Enoggera this Sunday between 10am and 12pm.
Mrs Faast said volunteers were always welcome to ensure the garden thrives and that a mix of Middle Eastern, Asian and Mediterranean recipes will be provided to help get the most out of the produce.
For more information, call 3354 1588.