Resolution Centre
Australia's hydroponics and aquaponics specialists
If you need to return an item or have a potential fault, please open a dispute in the Resolution Centre so that we can resolve your problem as quickly as possible.
Most disputes can be resolved through communication and it's best to contact us as soon as you recognise a potential problem. Once lodged, you can also track the progress of your dispute online at any time.
In order to open a new dispute make sure you are logged in to your account (top right corner)

Click on resolution centre (bottom row, middle column)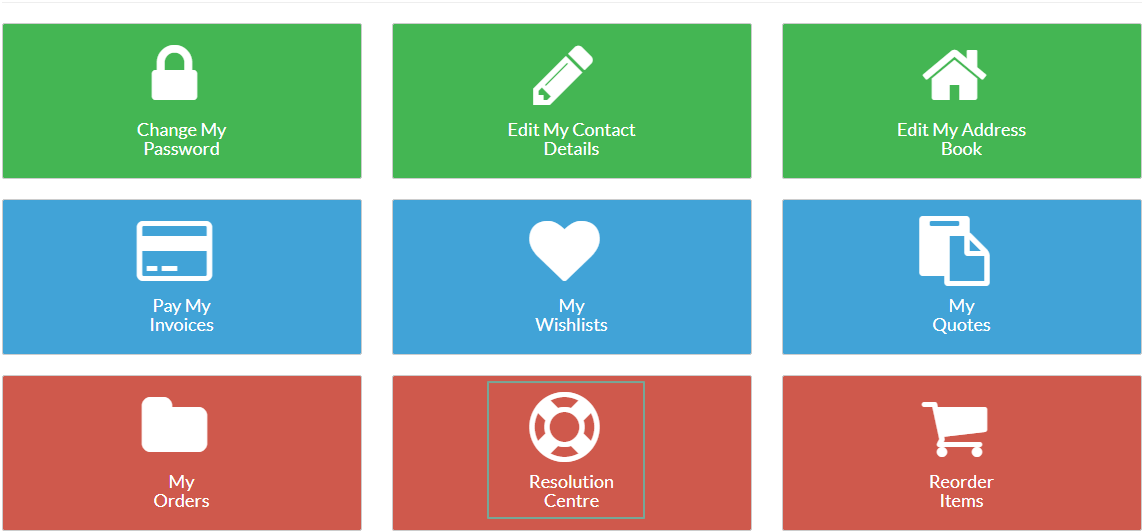 Press open a new dispute

Chose the type of your dispute
You have 2 types of possible disputes
Item dispute- I did not receive an item I purchased, or the item I received is dead on arrival, not working, not the one I ordered or significantly different than what was described
Unauthorised transaction / overcharge -I did not authorise this transaction, or I was overcharged for this transaction.
After choosing dispute type press "continue to next step"

When choosing item dispute, you will also be asked to choose the reason for this dispute. You have 6 options
Item not received
Item dead on arrival
Wrong item
Item significantly different from described
Item not working
Change of mind-60 days return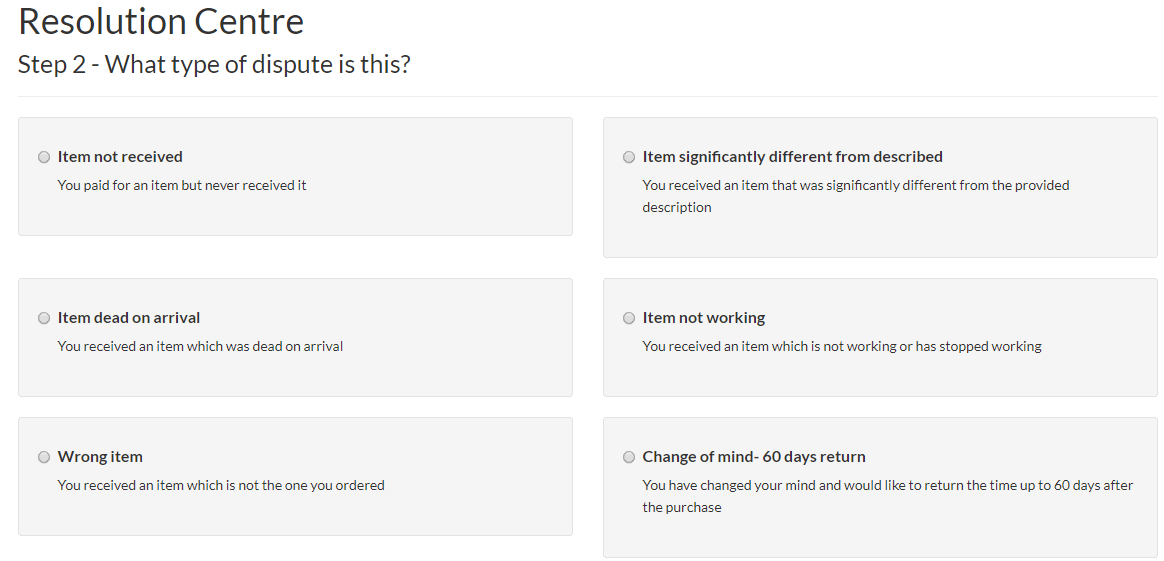 When choosing Unauthorised transaction / overcharge you will also be asked to choose the reason for this dispute. you have 2 options
Unauthorised transaction
Overcharge

Choose the order number related to this dispute (You can review all your orders by pressing "view a list of your past order ID's")

After choosing the dispute reason, press "continue to next step"

Choose between the following 2 options
Dispute the entire order
Dispute selected item(s)
And give as much details as possible to help us resolve the dispute quickly.

If you wish to edit your dispute details before submitting it you can press "Go Back" at any time

Once you have submitted a new dispute, you can view and track your dispute, send message updates or close the dispute altogether.
Simply press the resolutions centre in the "My account " page and review the open disputes section.