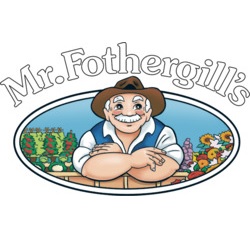 Mr Fothergills Kitchen Seed Sprouter | 15 x 15 x 21cm
In Stock - Fast Dispatch from Brisbane
Recommended Extras
Snippet Trimming Clippers - ($3.00)
Jiffy Propagation Peat Pellets [36mm x 12 Pellets] - ($5.95)
Measuring Jug [2L] - ($8.20)
Seed Dispenser & Sower - ($3.50)
---
---
Mr Fothergill's Kitchen Seed Sprouter | 15 x 15 x 21cm
Mr Fothergill's Kitchen Seed Sprouter makes growing sprouts very easy! All you need to add is water and seeds.
This high-quality multi-tiered seed sprouter has been designed to create the perfect growing conditions and provide a continuous supply of fresh and tasty sprouts. Perfect in the kitchen, it takes up minimal space and the clever design gives fingertip convenience all year round. Sprout seeds sold separately.
Growing in a Mr Fothergill's Kitchen Seed Sprounter:
1. Spread about 1 tablespoon of seeds in one or more of the four clear plastic trays.
2. Stack the clear trays on top of the bottom tray and pour enough water into the top tray to cover the outlet
3. This will commence the syphoning action and water will drain down through each of the trays and outlets
4. Once the water has drained, empty any excess water from the bottom tray. The water that stays in the clear trays is enough to provide the necessary humidity for successful seed germination. Water in this way at least 2-3 times each day.
Specs:
Dimensions: 21cm high x 15.5cm wide x 15.5cm deep
Made from BPA free plastic.
Shipping Calculator
Enter the quantity of product and your suburb name to calculate shipping costs.

This calculator will show you the delivery charges for this product only.


Free Shipping Eligibility
---
Aqua Gardening offers free shipping on most orders above $249 that are not bulky items. Once you place all the items you wish to buy in the cart, the combined shipping price will be shown in the cart, including Free Shipping if you are eligible. For full details please see our free shipping eligibility here.
---

Delivery Information
---
Back Order products

These are products we usually carry in stock but are temporary out of stock. These products will be back in stock within a few days. We can send you an email notification when they are back in stock if you click on the "Notify me when back in stock" link. See the full details here.
---
Special Order products

These are products that we do not regularly stock. These products will be ordered specially for you, or dispatched directly to you from our supplier. See the full details here.
---
Online Only products

These are products that are in stock in a different warehouse and can't be picked up with the Click & Collect option. If you wish to collect these products from our Brisbane showroom, you can enter our address as the delivery address. Shipping costs may apply. See the full details here.
---
Click & Collect Only products

These products can only be collected from our Brisbane showroom as we can not ship them. If you place any of these products in your cart, you will only see the Click & Collect option at the checkout.
---
Fast Dispatch products

These are products that we have in stock in our Brisbane showroom, and they are available for immediate Click & Collect or Shipping. Keep in mind that if you have a product which is not listed as a Fast Dispatch product in your cart, there might be a delay on your order. See the full details here.
---
---
Warranty
---
1 Year (Replacement Warranty - Store warranty, this product needs to be returned to Aqua Gardening for testing and replacement. )
---
Returns
---
60 Day Returns
- We will provide a refund, exchange or store credit where you have decided you no longer want the product and it is in new, unopened condition.
More details.