Author: Aqua Gardening
Date: 10 January 2019
Aquaponics Brisbane
Aqua Gardening have been specialising in Aquaponics in Brisbane almost since Aquaponics began. Our team is located in Stafford, Brisbane, and we stock a large range of aquaponics fittings and full aquaponics kits. The range includes aquaponics pumps, grow beds, fish tanks, plant and fish nutrients, water test kits, and fish food - all of your Aquaponics needs!
During 2020 we moved away from typical retail layout to a serviced ecommerce / online retail. Now all customer purchases are made through this website - skip to the Aquaponics section here. to see our range. However, in our showroom we have live fish and growing Aquaponic displays for customers to touch and see working. We also offer consultations for your future aquaponics project or dream! See the range of kits we have on offer in our online store here.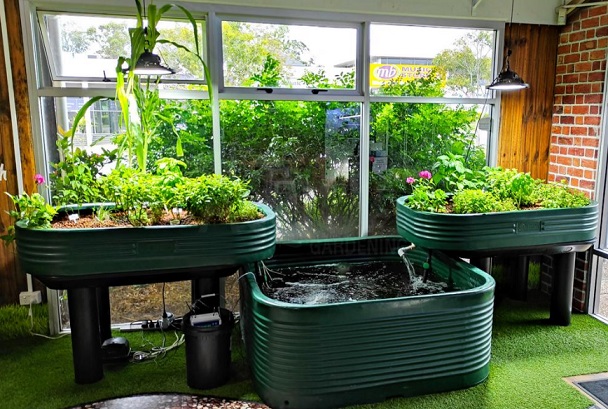 Our emphasis is on helping people understand Aquaponics and we offer friendly advice to help you grow the healthiest plants possible - whilst keeping your fish happy. Learn how to start an aquaponics system, or we can offer expert advice on water quality. We also assist with calculating pump sizes, grow bed volume, holding tank volume and how many fish to keep depending on the size of the system.
Why Should You Try Aquaponics?
Plants grow faster and in a smaller space! Watch on....
Come into our Brisbane store to see our working Aquaponics displays with both plants and fish living in a symbiotic relationship. We even stock Aquaponics kits that cater for beginners and kids. The great thing about Aquaponics is that simply any one can do it!
Aquaponics in Brisbane?
Aquaponics is well suited to the relatively mild winter in Brisbane. A mild winter means water temperatures in the fish tank should not drop below 15C for more than 1 month. For some varieties of fish this could mean a struggle for survival, but the most commonly grown silver perch and jade perch are able to survive (however do not eat much food) below 18C. Silver perch manage the best at these low temperatures - read more here. A water heater is the answer to keeping the fish comfortable, and more importantly, growing! Being the sunshine state, an aquaponics system in Brisbane will have an abundance of sunlight for your plants to grow all year round.
Benefits of Aquaponics