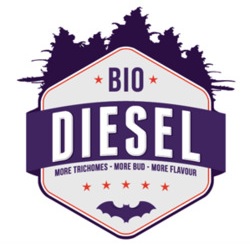 Bio Diesel Guano Bloom Enhancer [250ml]
$13.90
RRP $15.00
SAVE $1.10 (7%)
In Stock - Fast Dispatch from Brisbane
Recommended Extras
Trim Tray [150 Micron] - ($84.00)
Bio Diesel Green Diamond [2 x 1L] - ($41.90)
Bio Diesel Marine CaMg+ Cal Mag [250mL] - ($22.90)
---
---
Bio Diesel Guano Bloom Enhancer [1L to 25L]
Bio Diesel Guano is an extreme Bud Fuel designed for fast growing, heavy blooming hybrids. Based on a specialised form of Desert Bat Guano, Bio Diesel Guano is loaded with organic phosphorus, complex sugars, Amino Acids, Natural Plant growth regulators, Carbohydrates and Polyflavonoids to produce amazing yields, flavour and aroma in fruiting and flowering plants. Organic Phosphorous creates large more developed blooms throughout the entire plant. Complex sugars, B Vitamins and relive stress on the flowering plant and creates large increases in resin and potency. Aroma and taste is also greatly improved in the final product.

Benefits of Bio Diesel Guano
Improved Resin and essential oil production
More flowering sites with heavy blooms throughout the plant.
Greatly enhanced sugar production, taste and aroma.
Improves structure and micro-life in soil-less media.
Stabilises pH of the nutrient solution and growing media.
Bio Diesel is compatible with all known bloom enhancers including products high in potassium. pH changes by a 0.1 decrease and the total E.C values only rises by 0.1 E.C.

How and when to use Bio Diesel Guano?
Flowering week 1-3 of the bloom stage: Mix 2 ml per litre of nutrient solution (20ml-10L, 200ml-100L etc.) Flowering week 3-6 of the bloom stage: Mix 4 ml per litre of nutrient solution (40ml-10L, 400ml-100L etc.)

Bio Diesel Feed Schedule
Shipping Calculator
Enter the quantity of product and your suburb name to calculate shipping costs.

This calculator will show you the delivery charges for this product only.


Free Shipping Eligibility
---
Aqua Gardening offers free shipping on most orders above $249 that are not bulky items. Once you place all the items you wish to buy in the cart, the combined shipping price will be shown in the cart, including Free Shipping if you are eligible. For full details please see our free shipping eligibility here.
---

Delivery Information
---
Back Order products

These are products we usually carry in stock but are temporary out of stock. These products will be back in stock within a few days. We can send you an email notification when they are back in stock if you click on the "Notify me when back in stock" link. See the full details here.
---
Special Order products

These are products that we do not regularly stock. These products will be ordered specially for you, or dispatched directly to you from our supplier. See the full details here.
---
Online Only products

These are products that are in stock in a different warehouse and can't be picked up with the Click & Collect option. If you wish to collect these products from our Brisbane showroom, you can enter our address as the delivery address. Shipping costs may apply. See the full details here.
---
Click & Collect Only products

These products can only be collected from our Brisbane showroom as we can not ship them. If you place any of these products in your cart, you will only see the Click & Collect option at the checkout.
---
Fast Dispatch products

These are products that we have in stock in our Brisbane showroom, and they are available for immediate Click & Collect or Shipping. Keep in mind that if you have a product which is not listed as a Fast Dispatch product in your cart, there might be a delay on your order. See the full details here.
---
---
Warranty
---
Limited Warranty (This product has been stored in a controlled environment to ensure you will receive the best quality product possible. Due to this reason this product is sold on a strict no refund or return policy, unless it falls under a warranty claim. )
---
Returns
---
60 Day Returns
- We will provide a refund, exchange or store credit where you have decided you no longer want the product and it is in new, unopened condition.
More details.