In Stock - Fast Dispatch from Brisbane
Recommended Extras
Bluelab Guardian Monitor for Continuous pH, EC and Temperature - ($478.00)
Bluelab pH Pen - ($122.00)
Hygen EC Calibration Solution 2.76 [250ml] - ($11.00)
Hygen Probe Cleaner Solution [250ml] - ($11.00)
BONUS ITEMS! SPECIAL OFFER while stocks last! Receive one of these items FREE when you buy the Bluelab EC CF Truncheon Hydroponic Nutrient Meter [Regular Scale] today!
Garden Culture Magazine is a regular Australian Hydroponics and Organic Gardening magazine with great science articles and industry news.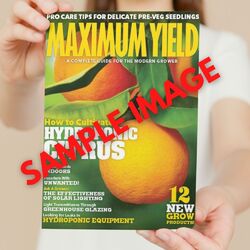 The Maximum Yield is a monthly magazine made for the Australian Hydroponics Industry. Read it to keep up to date with the latest gardening techniques, science and products.
The World's favourite conductivity meter - the Bluelab Truncheon. Simply brilliant, brilliantly simple!
It is essential when growing with a hydroponic solution to know what the strength of the solution is before feeding your plants. If the conductivity (EC) reading is too low, your plants may not be getting enough nutrients. If the conductivity reading is too high, plants can dehydrate.
Understanding the conductivity of the nutrient solution takes the guesswork out of feeding plants. It will also save you money! Using the Bluelab Truncheon Nutrient Meter is the fastest and easiest way to measure the conductivity.
To take a reading of your solution - simply place the probe head into the solution and the reading is indicated by the flashing lights.
Calibration of the Bluelab Truncheon Nutrient Meter is not required, however we do recommend keeping the tip clean to ensure accurate measurements.
Length of the truncheon - 40.7cm
Includes 3 x AA batteries.
Key benefits of the Bluelab Truncheon EC Meter:
EC, CF and ppm scales
Fully Waterproof
Auto on/off
No calibration needed
5 Year Warranty
Maintenance of the Meter
Keep the electrode head clean by wiping it with a soft cloth saturated in pH probe cleaning solution. PH probe cleaning solution is great for both EC and pH meters.
| | |
| --- | --- |
| SKU | 124060 |
| Barcode # | 9421024920012 |
| Brand | Bluelab |
| Warranty Length | 5 Years |
| Warranty Conditions | Replacement Warranty |
| Shipping Weight | 0.41 kg |
| Type | Test and Measurement |
Replacement Warranty - Store warranty, this product needs to be returned to Aqua Gardening for testing and replacement.

This calculator will show you the delivery charges for this product only.


Free Shipping Eligibility
Aqua Gardening offers free shipping on most orders above $100 that are not bulky and are sent to metro areas. Once you place all the items you wish to buy in the cart, the combined shipping price will be shown in the cart, including Free Shipping if you are eligible. For full details please see our free shipping eligibility here.


Delivery Information
Back Order products - These are products we usually carry in stock but are temporary out of stock. These products will be back in stock within a few days. We can send you an email notification when they are back in stock if you click on the "Notify me when back in stock" link. See the full details here.

Special Order products - These are products that we do not regularly stock. These products will be ordered specially for you, or dispatched directly to you from our supplier. See the full details here.

Online Only products - These are products that are in stock in a different warehouse and can't be picked up with the Click & Collect option. If you wish to collect these products from our Brisbane showroom, you can enter our address as the delivery address. Shipping costs may apply. See the full details here.

Click & Collect Only products - These products can only be collected from our Brisbane showroom as we can not ship them. If you place any of these products in your cart, you will only see the Click & Collect option at the checkout.

Fast Dispatch products - These are products that we have in stock in our Brisbane showroom, and they are available for immediate Click & Collect or Shipping. Keep in mind that if you have a product which is not listed as a Fast Dispatch product in your cart, there might be a delay on your order. See the full details here.