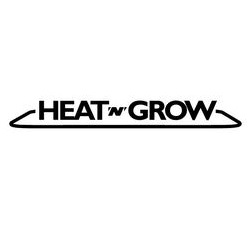 Heat N Grow Professional Heat Mat [10W]
Our Regular Price $65.00
NOW $48.75
SAVE $16.25 (25%)!
While Stocks Last
Only 1 left!
In Stock - Fast Dispatch from Brisbane
Recommended Extras
Sterile Disposable Scalpel [1pc] - ($1.84)
Growth Technology Clonex Purple Gel [50ml] - ($10.40)
Small Propagation Kit - Lid, Base, Lattice and 12 Eazy Plug Cubes [30 x 36cm] - ($33.75)
Clonex Cloning Kit - Scalpel + Rockwool + Gel [10 cubes] - ($17.10)
---
---
Heat 'N' Grow heated propagation mats pads allow for perfect temperature control all year round to ensure the success of your seedlings and cuttings. They include the simple non adjustable thermostat model TPS 020 along with two other adjustable thermostat controlled models TPS 030 & TPS 040.
Why a Thermo Controlled Heat Mat?
Soil temperature and environmental conditions can lead to unhealthy plants, or failure to germinate due to thermodormancy at low temperatures. By controlling the environment and soil temperature you can optimize germination rate and grow healthier plants. Making use of a propagator you can also extend your growing season. Start your plants earlier, when outside conditions may not allow, and transfer them later, allowing for greater seasonal yields.
Benefits of Heat 'N' Grow Heat Mats
For any type of gardening - Heat N Grow heatmats work equally well for seedlings and cuttings whether you are growing with soil or hydroponic media.
Durable - built with sturdy plastics that will last for years
Low cost - running cost for the heat mat is only cents per day
Grow exotics, flowers, herbs and cacti all year round - a Heat 'n' Grow system can act as a permanent home for valuable plants. Simply plug in and switch on at the power point. The TPS20 heated propagation tray is designed to heat up to 10C above the ambient room temperature.
Australian owned company - support local gardeners and Australian business.
Heat 'N' Grow Thermostat Controlled Heat Mat Specifications
| Model | TPS020 | TPS030 | TPS040 |
| --- | --- | --- | --- |
| Adjustable Thermostat | No | Yes | Yes |
| Temperature (Degrees Celsius) | 10 (Above Ambient) | 0 - 40 | 0 - 40 |
| Power Usage (Watts) | 10 | 24 | 48 |
| Voltage (Volts AC) | 240 | 240 | 240 |
| Number Of Trays | 1 | 1 | 2 |
| Dimensions (mm) L x W x H | 300 x 400 x 10 | 390 x 400 x 70 | 670 x 400 x 70 |
Shipping Calculator
Enter the quantity of product and your suburb name to calculate shipping costs.

This calculator will show you the delivery charges for this product only.


Free Shipping Eligibility
---
Aqua Gardening offers free shipping on most orders above $249 that are not bulky items. Once you place all the items you wish to buy in the cart, the combined shipping price will be shown in the cart, including Free Shipping if you are eligible. For full details please see our free shipping eligibility here.
---

Delivery Information
---
Back Order products

These are products we usually carry in stock but are temporary out of stock. These products will be back in stock within a few days. We can send you an email notification when they are back in stock if you click on the "Notify me when back in stock" link. See the full details here.
---
Special Order products

These are products that we do not regularly stock. These products will be ordered specially for you, or dispatched directly to you from our supplier. See the full details here.
---
Online Only products

These are products that are in stock in a different warehouse and can't be picked up with the Click & Collect option. If you wish to collect these products from our Brisbane showroom, you can enter our address as the delivery address. Shipping costs may apply. See the full details here.
---
Click & Collect Only products

These products can only be collected from our Brisbane showroom as we can not ship them. If you place any of these products in your cart, you will only see the Click & Collect option at the checkout.
---
Fast Dispatch products

These are products that we have in stock in our Brisbane showroom, and they are available for immediate Click & Collect or Shipping. Keep in mind that if you have a product which is not listed as a Fast Dispatch product in your cart, there might be a delay on your order. See the full details here.
---
---
Warranty
---
2 Years (Replacement Warranty - Store warranty, this product needs to be returned to Aqua Gardening for testing and replacement. )
---
Returns
---
60 Day Returns
- We will provide a refund, exchange or store credit where you have decided you no longer want the product and it is in new, unopened condition.
More details.