How to redeem my drops
We hope you are enjoying all the benefits of the best reward program in the industry.
Now, after you have collected some drops, it's time to spend them on the stuff you love.
The Growing With Benefits reward program allows you to collect drops from online purchases.
Where can I see how many drops I have online?
Log into your account, under your name you will find your status, drops and their value

The 'Value Of Drops' Will show the money value you have earned from online purchases only and can only be redeemed online
The 'Available Credit' will show up if you purchased in-store and you can use it in-store or online.
Please note that any other store credit you may have accumulated will be added to your available credit as well.
How to pay with my drops online?
It's easy!
1. Make sure you are logged into your account.
2. Add products into your cart and continue to checkout.
3. Once at the checkout, scroll down to Payment Details and apply all, or part, of your credit in any of the sections below.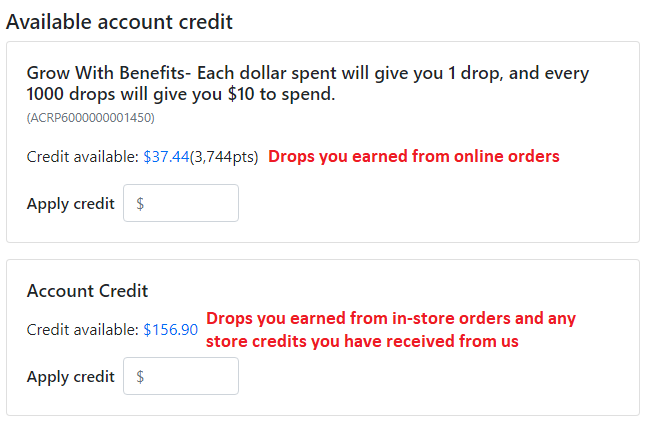 * If this is your first order as a logged in customer, or if you have already spent all your drops, this section will not show up.
4. Complete the checkout, and we'll take care of the rest.
Can I use just part of my drops?
Yes, you can! If you don't have enough drops, or if you want to keep some for later, all you need to do is:
1. Insert the amount you want to redeem in the "Apply credit" box.
2. Select your second payment method. This will automatically update the total of your cart.
3. Click on the "Continue to Payment" button and follow the instructions from there.
Once payment has been applied, Checkout is finished and the order is sent through to us.