Growing With Benefits
Growing with Benefits – The Best Loyalty Program in the Industry
At Aqua Gardening, we're committed to providing a simple and effective way to introduce hydroponic and automatic gardening systems to homes across Australia. Get the most out of shopping online with our loyalty program "Growing With Benefits." Each dollar spent allows you to collect 1 "drop," and you can start spending your drops immediately after your first purchase – no need to wait for a gift card.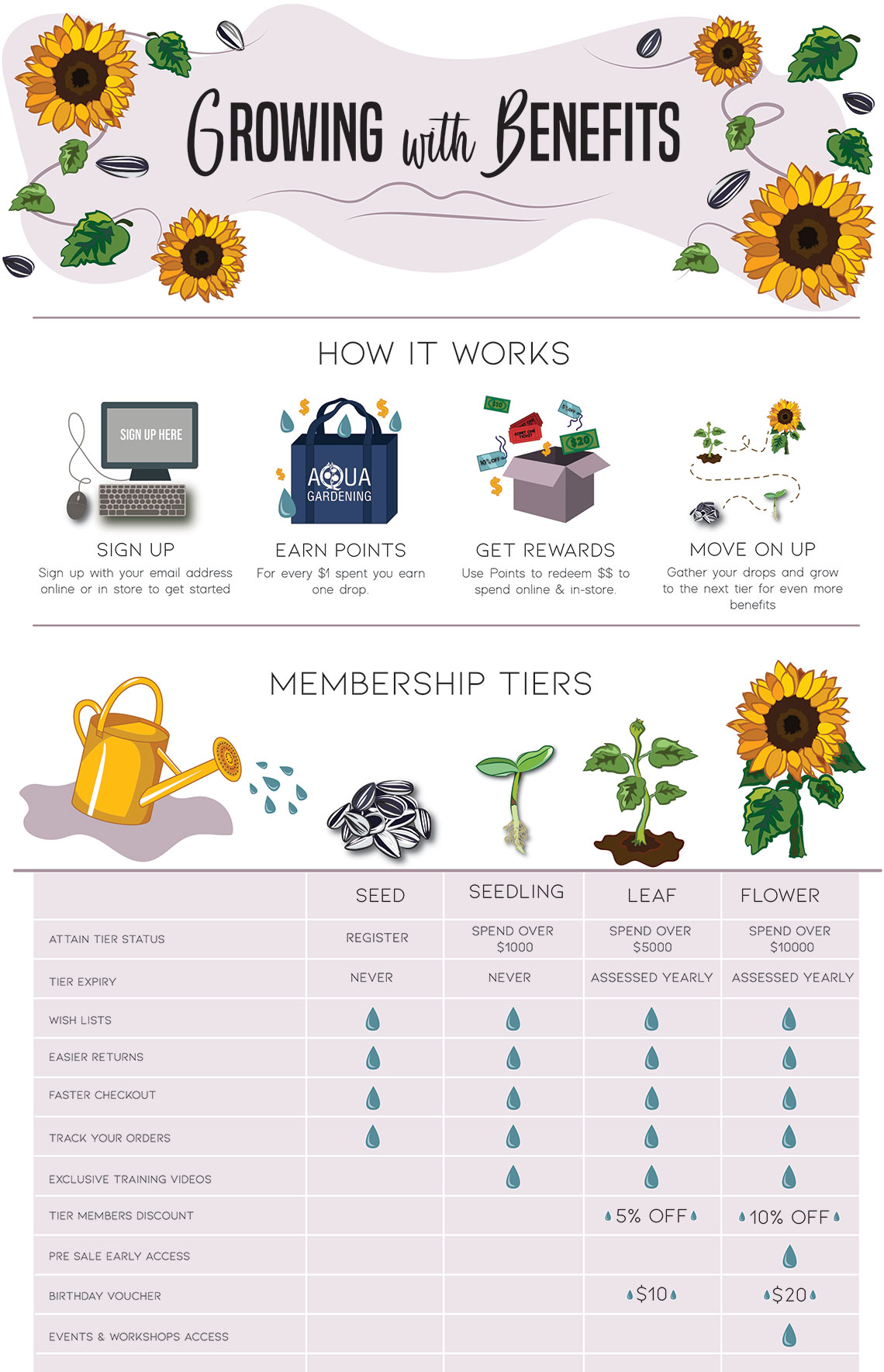 FAQ
Can I earn drops in-store and online?
Yes, you can! But in-store you will be able to redeem only drops you have earned in store. If you are logged in to the website, you will be able to use the points you have earned in-store and online.
How long it will take to get my drops?
Online- You will receive them immediately after you complete your purchase.
In Store- You will receive the point at the end of each month. We are working on integrating this with the online points so in-store order can receive points immediately after purchase so make sure you are signed up to our newsletter to get updates when this happens.
How can I redeem my drops?
Click here to see a step by step how to redeem your drops in store and online, but it is easy as going to the checkout and applying your credit.
Will my points expire?
No! If you earned it, it's yours, no time limits!
When do you assess my status?
Once you sign up as a customer you will be immediately in a seed status.
Usually, it will take 24 hours for your status to change, so once you have spent enough to qualify to the next level, you will get access to all the next level benefits within 24 hours.
Also, we will assess the status of all our leaf and flower members annually on June 30 - EOFY.
Are there any products that will place me in a higher rewards tier?
Yes, most of our complete garden kits will give you a seedling membership without the need to spend $1000. From time to time we also have offers that will help you grow to the next tier, so make sure to check our emails.
How can I access the exclusive training videos?
First you need to make sure that you are logged in, otherwise, your access will be denied.
Go to our learn section and select the video section.
At the bottom of each category, you will find videos that are exclusive to you. Enjoy!