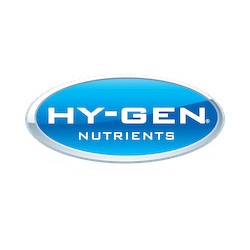 Hygen pH 4 Buffer [250ml]
In Stock - Fast Dispatch from Brisbane
Recommended Extras
Bluelab pH Pen - ($129.90)
Bluelab pH Probe with 2m Cable - ($104.90)
Hygen pH 7 Buffer [250ml] - ($8.00)
Hygen Probe Cleaner Solution [250ml] - ($7.90)
---
---
Hygen pH Buffer 4 is a solution for the calibration of pH meters at pH 4.0
The ideal pH range for a nutrient solution is typically between 5.8 and 6.5. A pH value above or below this range can increase the likelihood of some nutrients becoming unavailable to the plant.
Some electronic meters require a "two point" calibration, making pH Buffer 4 an important step as the lower calibration point in the two point calibration process. This solution will ensure that meters accurately reflect the true reading at the lower end of the range.
How to use:
Pour some of the solution in to a clean container, enough to cover the probe.
Clean and sanitize the pH probe
Insert the probe to the solution
For Auto calibration meters, just press the pH4 button on your meter.
For manual calibration meters you will need to manually adjust the pH reading to 4.
Please check your pH meter manual for more information on how to calibrate your meter.
Shipping Calculator
Enter the quantity of product and your suburb name to calculate shipping costs.

This calculator will show you the delivery charges for this product only.


Free Shipping Eligibility
---
Aqua Gardening offers free shipping on most orders above $249 that are not bulky items. Once you place all the items you wish to buy in the cart, the combined shipping price will be shown in the cart, including Free Shipping if you are eligible. For full details please see our free shipping eligibility here.
---

Delivery Information
---
Back Order products

These are products we usually carry in stock but are temporary out of stock. These products will be back in stock within a few days. We can send you an email notification when they are back in stock if you click on the "Notify me when back in stock" link. See the full details here.
---
Special Order products

These are products that we do not regularly stock. These products will be ordered specially for you, or dispatched directly to you from our supplier. See the full details here.
---
Online Only products

These are products that are in stock in a different warehouse and can't be picked up with the Click & Collect option. If you wish to collect these products from our Brisbane showroom, you can enter our address as the delivery address. Shipping costs may apply. See the full details here.
---
Click & Collect Only products

These products can only be collected from our Brisbane showroom as we can not ship them. If you place any of these products in your cart, you will only see the Click & Collect option at the checkout.
---
Fast Dispatch products

These are products that we have in stock in our Brisbane showroom, and they are available for immediate Click & Collect or Shipping. Keep in mind that if you have a product which is not listed as a Fast Dispatch product in your cart, there might be a delay on your order. See the full details here.
---
---
Warranty
---
Limited Warranty (This product has been stored in a controlled environment to ensure you will receive the best quality product possible. Due to this reason this product is sold on a strict no refund or return policy, unless it falls under a warranty claim. )
---
Returns
---
60 Day Returns
- We will provide a refund, exchange or store credit where you have decided you no longer want the product and it is in new, unopened condition.
More details.