In Stock - Fast Dispatch from Brisbane
BONUS ITEMS! SPECIAL OFFER while stocks last! Receive one of these items FREE when you buy the OGS Nutrient Kit [2kg] today!
Garden Culture Magazine is a regular Australian Hydroponics and Organic Gardening magazine with great science articles and industry news.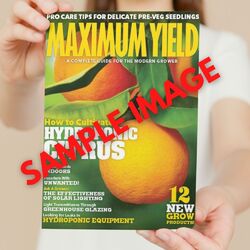 The Maximum Yield is a monthly magazine made for the Australian Hydroponics Industry. Read it to keep up to date with the latest gardening techniques, science and products.
The OGS Complete 'Nutrient Kit' is for re-amending your soil after each bloom cycle by applying it to the top of your No Till / Coots Mix medium. The Nutrient Kit is designed to restore the nutrients consumed during the previous grow cycle and rejuvenate your soil.
When re-amending, apply the 'Nutrient Kit' to the top of the soil, cover with compost/mulch and lightly water it in.
For nutrient intensive perennials, we recommend you use approx ½-1 cup for large pots (>20L), and ¼-½ cup for smaller pots (<20L).

Nutrient Kit Ingredients:
Kelp Meal, Oyster Shell Flour, Neem Cake, Alfalfa, Wheat Bran, Volcanic Rock Dust, Palagonite, Shell Grit, Gypsum, Langbeinite, Azomite, Malted Barley Grain, Magnesite, Wheat Bran, Fulvic Acid.
Sold as a 2kg pack.
| | |
| --- | --- |
| SKU | 129316 |
| Brand | OGS |
| Warranty Length | Limited Warranty |
| Warranty Conditions | Limited Warranty |
| Shipping Weight | 1.60 kg |
| Type | Nutrient Powder |
Limited Warranty - This product has been stored in a controlled environment to ensure you will receive the best quality product possible. Due to this reason this product is sold on a strict no refund or return policy, unless it falls under a warranty claim.

This calculator will show you the delivery charges for this product only.


Free Shipping Eligibility
Aqua Gardening offers free shipping on most orders above $100 that are not bulky and are sent to metro areas. Once you place all the items you wish to buy in the cart, the combined shipping price will be shown in the cart, including Free Shipping if you are eligible. For full details please see our free shipping eligibility here.


Delivery Information
Back Order products - These are products we usually carry in stock but are temporary out of stock. These products will be back in stock within a few days. We can send you an email notification when they are back in stock if you click on the "Notify me when back in stock" link. See the full details here.

Special Order products - These are products that we do not regularly stock. These products will be ordered specially for you, or dispatched directly to you from our supplier. See the full details here.

Online Only products - These are products that are in stock in a different warehouse and can't be picked up with the Click & Collect option. If you wish to collect these products from our Brisbane showroom, you can enter our address as the delivery address. Shipping costs may apply. See the full details here.

Click & Collect Only products - These products can only be collected from our Brisbane showroom as we can not ship them. If you place any of these products in your cart, you will only see the Click & Collect option at the checkout.

Fast Dispatch products - These are products that we have in stock in our Brisbane showroom, and they are available for immediate Click & Collect or Shipping. Keep in mind that if you have a product which is not listed as a Fast Dispatch product in your cart, there might be a delay on your order. See the full details here.