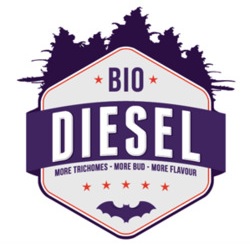 Bio Diesel Nutrients Starter Kit Original
$259.90
RRP $275.00
SAVE $15.10 (5%)
Only 2 left!
In Stock - Fast Dispatch from Brisbane
Recommended Extras
Hygen Coco Brick [5kg] - ($26.90)
Digital LUX Meter Light Tester with Carry Case - ($79.00)
Round Fabric Pot - Velcro Side [5L] - ($4.40)
Round Fabric Pot [20L] - ($6.90)
---
---
The Bio Diesel Starter Kit contains everything a new grower needs to get growing top shelf produce! This kit contains a 1L size of 4 of the key Bio Diesel Nutrients and Additives, and 250ml of Super Natural and Marine Cal Mag+ (due to the high concentrations) all for use with Hydroponics or Soil. Perfect for the new "grow your own" indoor grower, or those looking to get the best results based on speed and quality. The pictured swag may or may not be included depending on availability.

Bio Diesel Nutrients Starter Kit Includes:
1 x Hoodie
1 x Sensi Pro Green Diamond 1L A + 1L B
1 x Sensi Pro Aloevate 1L
1 x Sensi Pro Bio Diesel Bloom Booster 1L
1 x Sensi Pro Crystal Clear 1L
1 x Sensi Pro Super Natural 250mL
1 x Sensi Pro Rhino K 250mL
1 x Sensi Pro Marine Cal Mag+ 250mL
Merchandise including stickers
Note the pictured Hat, Mood Mat and T-Shirt may or may not be included by Bio Diesel.
Bio Diesel Feed Schedule
Enhance Your Crop Organically with Bio Diesel
With a surge in growers taking control of their own food and medicine, people are finally becoming conscious of nasty PGRs and other chemicals that are currently still being used in horticulture to increase plant yields.
The Bio Diesel range of high performance Hydroponic additives offer an organic solution to synthetic fertigation through biological driven processes. The range works with the natural microbiome and plant symbiosis to achieve maximum nutrient uptake of all minerals through beneficial biology and encourage massive growth increase to growers existing hydroponic and organic nutrient programs.
The Bio Diesel range caters to both Soil growers and Hydroponic production and can be customized for Pro-Mix living soils.
Shipping Calculator
Enter the quantity of product and your suburb name to calculate shipping costs.

This calculator will show you the delivery charges for this product only.


Free Shipping Eligibility
---
Aqua Gardening offers free shipping on most orders above $249 that are not bulky items. Once you place all the items you wish to buy in the cart, the combined shipping price will be shown in the cart, including Free Shipping if you are eligible. For full details please see our free shipping eligibility here.
---

Delivery Information
---
Back Order products

These are products we usually carry in stock but are temporary out of stock. These products will be back in stock within a few days. We can send you an email notification when they are back in stock if you click on the "Notify me when back in stock" link. See the full details here.
---
Special Order products

These are products that we do not regularly stock. These products will be ordered specially for you, or dispatched directly to you from our supplier. See the full details here.
---
Online Only products

These are products that are in stock in a different warehouse and can't be picked up with the Click & Collect option. If you wish to collect these products from our Brisbane showroom, you can enter our address as the delivery address. Shipping costs may apply. See the full details here.
---
Click & Collect Only products

These products can only be collected from our Brisbane showroom as we can not ship them. If you place any of these products in your cart, you will only see the Click & Collect option at the checkout.
---
Fast Dispatch products

These are products that we have in stock in our Brisbane showroom, and they are available for immediate Click & Collect or Shipping. Keep in mind that if you have a product which is not listed as a Fast Dispatch product in your cart, there might be a delay on your order. See the full details here.
---
---
Warranty
---
Limited Warranty (This product has been stored in a controlled environment to ensure you will receive the best quality product possible. Due to this reason this product is sold on a strict no refund or return policy, unless it falls under a warranty claim. )
---
Returns
---
60 Day Returns
- We will provide a refund, exchange or store credit where you have decided you no longer want the product and it is in new, unopened condition.
More details.