Showroom Experience
Planning a visit to our Showroom?
We would love to see you in person, our showroom is designed to inspire while giving you the attention you need to be a successful gardener.
Please remember that we are not set up as a retail space, We are here to help you with your gardening journey and most of our products are in stock and available for immediate Click and Collect.
What can you do in our showroom:
Check out Aquaponics, Hydroponics and Ponds live displays.
Pick up a Click&Collect order
Use our self-serve computer to place an order with or without our help.
Exchange or refund products (For returns or warranties please contact us first as usually, we can solve this over the phone)
If you would like to get the most out of your visit you will need to book a free consult so we can have one of our team members dedicated to you.
What services do you need to book a consult session for:
Ask questions about the best practice to set up a new garden.
Optimise your garden
Finding the right products for your project.
Troubleshoot gardening issues such as pests and deficiencies.
Troubleshoot issues with products and warranty claims
Any other question or issue that is not quick to solve.
Without a booking, Aqua Gardening can not guarantee that we will have the ability to give you the service you deserve.
How do I know a product is in stock for Click&Collect?
Our stock levels are very accurate, You can see if a product is in our Brisbane showroom by reading the availability status under the add to cart button on the product page :
Or If you are browsing thru the products any product that says "Fast Dispatch" is in stock in our Brisbane showroom: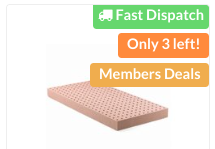 Aqua Gardening has a high volume of sales so if you want to make sure that when you arrive at our showroom the products you want are there for you, you must make an online order. if you want to just hold the products until you arrive, that's easy by checking out with the "Pay In Store" option. This will make sure the products are held for you for a few days and you can modify the order in-store if needed.
Book a free consult session for your next visit