Conventional Aquaponics may appear simple. But, in reality, it is a lot more difficult to manage than what we have been led to believe. However, Autopot Aquaponics is a lot easier. It is as simple as letting the water first flow into the fish tank. The water is then pumped or gravity fed from the fish tank to the plants via an Autopot System.

Conventional Aquaponics System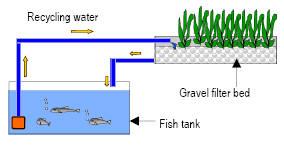 Autopot Aquaponics System


The Advantages of Autopot Aquaponicss
No need to monitor the water qualities for the fish and the crop
No need to match the number of plants to the fish
The plants at close proximity to the fish tank
You can use many different kinds of growing mediums
You do not need to put in pipes for the return flow

Example of an Autopot Aquaponics System
At the moment, the display at the Autopot shop in Melbourne is very extensive (over 500 meters apart) - feeding up to 1,500 plants from a 12V DC 8 amp battery operated pumping and dosing unit (Smart-pump set). The plants are consuming on average 1,500 litres of water a day (no wastage) at this time (summer) of the year.
Since the installation of the Autopot Aquaponics system about two months ago, they have been making use of the water for their fish first before feeding it to the plants. Allowing a 10% daily water change in the aquaculture tanks, they should be able to culture up to 15,000 litres of fish tanks which can be translated to mean a potential stocking rate of 1,500 heads of fish such as Jade Perch.
Please contact Aqua Gardening for more info or come in store to see our working conventional aquaponics systems!